It is indeed delightful to plan a trip to a place with white sandy beaches and emerald waters. The feel of having your toes in the sand and sunshine on your back is enough to make anyone long for a beach vacation. The beach attracts tourists from all over the world, as it assures a fun-filled experience with their families and loved ones.
While planning a beach vacation, there is no place anyone would want to be other than in Destin Florida! Being known as The World's Luckiest Fishing Village, it has the most serene ambiance with oak and pine trees and sugar-white sand for miles along the coastline, and planning a trip there has never been easier, thanks to Destinflorida.com
Destinflorida.com features all the popular destinations around the Destin area. Here, you can easily browse and book homes, condos, and more from their wide selection. You can also plan your everyday activities, hire services, and make reservations at restaurants for relaxing lunch and dinners throughout your stay. 
With everything else sorted out for you, the only thing you will have to worry about is your luggage! No one is ever keen to pack their luggage. There is just so much to keep and something is guaranteed to slip your mind. To ensure you don't get stuck in such situations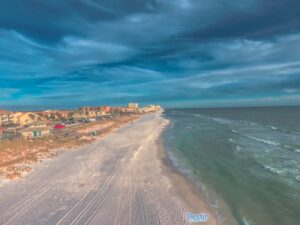 Here is a list of things that are absolutely necessary for an escape to the beach!
For the car ride –

If you are planning to make a road trip out of your beach getaway, well, there is nothing wrong with that! Living a few hour's drive from the emerald coast gives you the best opportunity to take in the view while the road leads you down to the coast. 
Things to definitely keep on hand for the road are –
A GPS smartphone

Sunglasses

Cell phone charger

Entertainment like music, book, magazines, etc

Snacks, paper towels, and trash bags

First Aid kit and jump cables
Traveling by flight –

You can always fly directly to the nearby airport of the city. In this situation, all the packing is done as your check-in luggage with a few items in your handbag such as –
Phone charger

Entertainment – books, magazines, and electronics

Valuables

Snacks

Medicines
Essentials for the Beach –

These are some of the necessary items to bring for the perfect fun under the sun.
Bathing suit –

Bathing suits are a must whether you want to go splashing around in the water and surf the waves or just work on getting that perfect tan. You can also pack Floaties for children as extra swimming aid.

Cover-ups –

Carrying something with you that you can easily slip into if you have to go back to your room or visit a nearby store is essential. With a bathing suit cover-up, you don't have to be concerned about switching between your beach and normal attire.

Sunscreen –

It is an absolute must-have when planning a trip to the beach and that too, having a sufficient amount. Protecting your skin is crucial, if you don't want to ruin your trip with a mild or severe case of sunburn.

Sunglasses –

Sunglasses are a patent for the beach. Not only are they stylish, but also protect your eyes from the strong sun's rays. Don't forget to pack one of each of your family members.

Hat –

Hats protect your head and face from the direct rays of the sun. Packing one is always a good idea as it will also protect you from a heatstroke. 

Flip-flops –

Sandals and flip-flops are perfect for the beach. It protects your feet from the hot beach sands and any debris or harmful objects while looking absolutely adorable with your outfit! 

Towels –

To use either as a comfortable rest to sit or lie down on or for drying off, beach towels are vital when going to the beach. 

Beach toys –

Building sandcastles never gets old. Whether you're a kid or an adult, the joy of building a sandcastle or writing something in the sand forever appeals to the soul.

Tote beach bags –

All your beach essentials need a space to be carried in and there is plenty of space in the beach tote bags. They set in perfectly with the beach vibes and are the best beach company.

Books and magazines –

Lounging back in your chair with a book in hand and a drink by your side, nothing can be more relaxing than that! Whichever reading material you choose to take with you, it will go perfectly with the relaxing feel of the beach.

Plenty of water and snacks –

The heat will cause you to feel dehydrated after spending a long time on the beach. Dot forget to carry refillable water bottles and a few snacks with you.

Goggles –

It will protect your eyes and help you see when you dive under the emerald waters. 
Destin fishing charter –

When planning a trip to Destin, experiencing the fishing charter is at the top of the must-do list. While afloat the fishing charter – 
Carry a thick layer to protect yourself from breeze and cold. Most charters leave early in the morning and there is always a distinctive temperature difference between the land and sea during those hours. 

Wear shoes that have a good grip so that you don't slip and fall on deck. Shoes that have rubber soles provide better grip.

Carry sunglasses and a hat.
The most famous tourist attraction such as Crab Island, which can only be accessed by boat, is a shallow sandbar. The best place to hand out on your boat. 
Next, you have The Baytowne Wharf which is very popular for its nightlife. It has bars, food, and an adventure park! Harborwalk Village is known for its live entertainment, boutiques, and restaurants. 
Home to magnificent white sandy beaches, the visit to Destin is an unforgettable experience. As there is much to see and explore in the beautiful city of Destin.