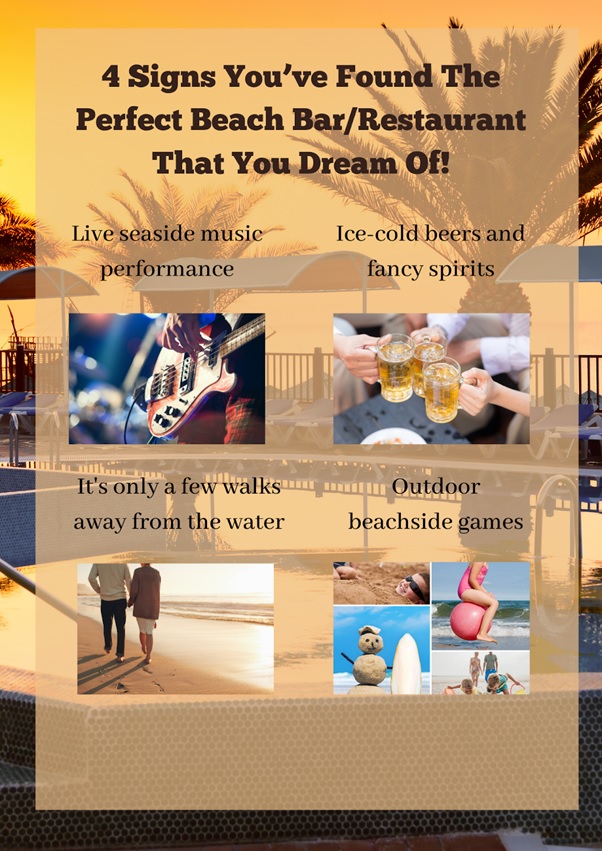 Who doesn't love beaches? Whether going to a local seaside restaurant in Singapore or a beach bar – there are many opportunities and ways to enjoy your beach vacation. It's never too late for us to fulfil our lustful daydream about the seaside experience.
Instead of dreaming about transporting yourself to a beach sanctuary, you have so many choices of seaside restaurants and beach bars. After all, you don't have to dip your toes in the water whenever you're at the beach. Here are a few signs you've finally found a 'great' seaside bar or restaurant!
1. Live seaside music performance
Live music creates an outstanding experience, especially if at the beachside. Maybe it's a 'Marley' reggae, a sunset lounge mix, a swanky acoustic performance, etc. If you're finding the perfect beach bar in Singapore, live music performance is one of its attributes. After all, it's more than just having killer sounds. It's about creating a memorable experience and living in it!
2. Ice-cold beers and fancy spirits
If the beachside bar and restaurant have a fancy menu of ice-cold beers and cocktails, you've found the 'right' beach sanctuary to cool off in the dawn. Not every sea view restaurant in Singapore has an exceptional killer menu to cater cocktails and alcoholic drinks, especially if you have a soft spot for them.
3. It's only a few walks away from the water
Are you going for a daytime swim and an evening drink later? Not every restaurant and beach bar in Singapore has the luxury to offer you what you've always wanted at the beach right after you step outside. In or out, there's nothing better than having the bar/resto and the sea a few walks apart!
4. Outdoor beachside games
Your beachside experience will never be complete without witnessing and playing beach games. Be it a volleyball, frisbee, ladder toss, these outdoor games make you want to hang out and stay for a while. Who knows? You might meet someone interesting at the end of the day.
Are you looking for a Sentosa restaurant in Singapore? Enjoy your seaside experience at Coastes!